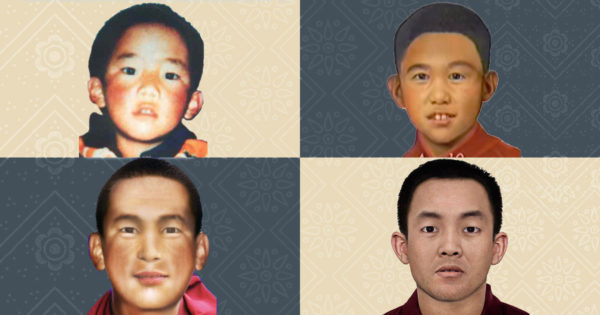 After a lifetime in captivity, the Panchen Lama, Tibet's second most prominent religious figure, turns 30 on April 25, 2019.
A new forensic image shows how the Panchen Lama, who was kidnapped by China at age 6, might look now.
The abduction of the Panchen Lama provides a preview of China's plan to interfere in the eventual reincarnation of the Dalai Lama.
In 1995, His Holiness the Dalai Lama recognized Gedhun Choekyi Nyima, a six-year-old boy, as the 11th Panchen Lama, the second most well-known religious figure in Tibet.
Three days later, Chinese authorities abducted the Panchen Lama and his family, making him the world's youngest political prisoner.
April 25, 2019 is the Panchen Lama's 30th birthday. His whereabouts remain unknown, and he has not been seen in public since his kidnapping, although it is believed he is still alive.
As the Panchen Lama turns 30, the International Campaign for Tibet (ICT) calls on China to immediately free him and allow him to return to his monastery, Tashi Lhunpo, and assume his vital role as a religious leader.
Enforced disappearance, as defined in the UN Declaration on the Protection of All Persons from Enforced Disappearance, is a continuous crime until the fate or whereabouts of the disappeared person become known. As such, the enforced disappearance of the Panchen Lama is a crime that has been continuously committed by the People's Republic of China since May 17, 1995.
China's attitude toward the Panchen Lama clearly shows that its claim of respecting religious freedom in Tibet—a historically independent country that China has occupied and ruled with an iron fist for the past 60 years—is aimed solely at serving its political goal of controlling Tibetan Buddhism.
Age progression images


In 2000, ICT produced a 60-minute documentary, "Tibet's Stolen Child," about China's kidnapping and imprisonment of the Panchen Lama. In it, six Nobel Peace laureates (the Dalai Lama, Desmond Tutu, John Hume, Mairead Maguire, Jose Ramos-Horta and Elie Wiesel) and other moral and religious leaders discuss what happens when governments use persecution as a weapon.
The questions are relevant 19 years later. In the documentary, ICT uses an age-progression image of what the Panchen Lama would have looked like at the age of 10, done by a forensic artist. Similarly, in 2015, ICT commissioned German facial aging specialist Dirk Scheerle to come up with an image of what the Panchen Lama would look like at age 26.
This year, the International Tibet Network has commissioned another forensic artist to create an image of how the Panchen Lama would look at 30.
Lobsang Yangtso, Asia regional coordinator for the network, said: "It sends a message to Beijing that the world has not forgotten about Gedhun Choekyi Nyima, despite all of their efforts to erase him from our history. This image is an important document of how our Panchen Lama may look at age 30 after we have not seen him for 24 years. It also allows Tibetans to continue to hope that he will one day be free again."
The Panchen Lama and the Dalai Lama's reincarnation
The case of the detained Panchen Lama shows China's long game for securing control over Tibetan Buddhism and Tibet.
Shortly after abducting the Panchen Lama in 1995, China selected another boy to replace him. This person, named Gyaltsen Norbu, now takes part in formal events and serves as a proxy for the Chinese government.
Historically, the Dalai Lama and the Panchen Lama have been involved in the recognition of each other's reincarnation.
By empowering its selected Panchen Lama, China hopes to commandeer the eventual rebirth of the Dalai Lama.
The issue of the Dalai Lama's reincarnation has been in the news recently. In response to media questions last month, the Dalai Lama said it was possible his next incarnation might be found in India, where the Dalai Lama has lived for the past 60 years since he was forced into exile from Tibet.
Tibetan Buddhists believe high-ranking lamas can select the time and place of their rebirths in order to benefit others. The Dalai Lama also formally declared in a 2011 statement that only he has the authority to decide his future incarnation.
Despite this, a spokesman for China's Foreign Ministry asserted in March 2019 that the Dalai Lama's reincarnation "must comply with Chinese laws and regulations." Not only is this statement, coming from an officially atheist, communist regime, clearly absurd; it also represents a severe government intrusion in religion.
Rejection of China's claims
US leaders have made it clear they support the right of the Tibetan religious community to decide on religious matters, such as reincarnation. The US Congress—as well as the European Parliament—have for decades supported Tibetans' right to enjoy religious freedom and have called on China to stop its interference in Tibetan Buddhism.
The US House of Representatives passed a resolution in 2015 calling for an end to Chinese interference in the reincarnation system, and the Senate passed a similar resolution on the Panchen Lama's birthday in 2018.
In addition, last year a senior State Department official told a Congressional hearing that "religious decisions should be made within religious organizations…That is the clear position of the United States government and I think widely supported within American society."
Tibetans' devotion to the Panchen Lama indicates they will spurn any effort by China to name a new Dalai Lama. In fact, the Dalai Lama categorically told Reuters in March 2019, "In future, in case you see two Dalai Lamas come, one from here, in free country, one chosen by Chinese, then nobody will trust, nobody will respect (the one chosen by China). So that's an additional problem for the Chinese!"
As the Panchen Lama turns 30, the international community must reaffirm the right of Tibetans to practice their religion without interference from the Chinese government, particularly in the sacred process of reincarnation.
World leaders must also insist that China immediately release the Panchen Lama so he can perform his essential role in serving his people as one of their most important spiritual leaders.
Quotes
Representative Jim McGovern, Chair of Tom Lantos Human Rights Commission & Congressional-Executive Commission on China:
"The 24-year-long enforced disappearance of the Panchen Lama is one of the most egregious examples of China's violation of the religious freedom rights of the Tibetan people. In honor of his 30th birthday, I again call on the Chinese government to free the true Panchen Lama immediately and without conditions."
Dr. Tenzin Dorjee, Chair of the U.S. Commission on International Religious Freedom:
In a personal message to the Panchen Lama on his 30th birthday, Dr. Dorjee said, "Your Holiness, despite the Chinese government's systematic, ongoing, and egregious religious freedom violations, nobody can change the fact that you are the 11th Panchen Lama as recognized by His Holiness the Dalai Lama. As a Tibetan-American and USCIRF Chair, it is my honor, privilege, and responsibility to advocate on your behalf. Congressman Jim McGovern and Commissioner Nadine Maenza joined me in adopting you as our Religious Prisoner of Conscience and we coordinate our advocacy efforts for your freedom and well-being. I urge our president and secretary of state to impose sanctions on Chinese officials and agencies under the Global Magnitsky Human Rights Accountability Act for perpetrating religious freedom violations and to continue to implement the Reciprocal Access to Tibet Act of 2018 to seek access to you and press for your immediate and unconditional release."
Matteo Mecacci, president of ICT:
"Although the Panchen Lama has spent nearly a quarter-century as a political prisoner, he is still only 30 years old and, if China releases him, he has the majority of his life ahead of him to benefit his people and the whole of humankind.
Tibetans' devotion to the Panchen Lama is sacrosanct, and their right of religious freedom is universal and undeniable. While Chinese leaders believe they can control the reincarnation of the Panchen Lama and the Dalai Lama, their efforts have been and will continue to be rejected by both Tibetans and the international community.
Therefore, the smartest thing for China to do if it wants to reclaim trust and goodwill around the world is to free the Panchen Lama immediately and immediately stop its interference in Tibetan Buddhist reincarnations."