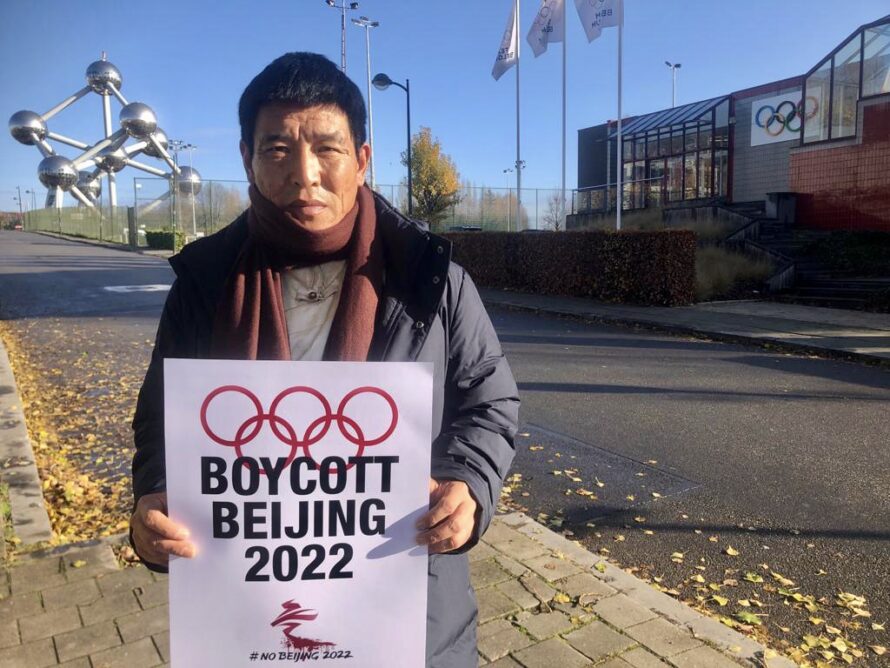 After France and the Netherlands, Tibetan activist and filmmaker Dhondup Wangchen, who spent 6 years in jail for his film "Leaving Fear Behind", has continued his European advocacy tour with a three-day visit in Belgium this week.
At the office of the National Olympic Committee of Belgium, which ignored request made by ICT for a meeting with him, Dhondup Wangchen handed over a letter presenting his main demand – that the 2022 Winter Olympics not be held in Beijing.
"I am touring European countries to shine the spotlight on China's continued human rights abuses, particularly in Tibet. In the run up to the 2008 Beijing Games, China promised that their human rights record would improve. Back then, I believed in the International Olympic Committee and trusted them to live up to their promises," Dhondup Wangchen said. "I made together with the help of some friends the documentary film Leaving Fear Behind, interviewing Tibetans on the ground to air their views and grievances and for this 25-minute film, China tortured me and gave me a 6 year prison sentence. China does not deserve the honour of hosting the 2022 Winter Olympics and the IOC should withdraw all athletes."
During his visit to the European capital, Dhondup Wangchen met with several EU and Belgian officials, as well as with Members of the European Parliament or their representatives Ms. Isabel Santos, Ms. Salima Yenbou, Mr. Mikuláš Peksa, Mr. Hannes Heide and Mr. Carles Puigdemont ; and of the Belgian Parliament, including the Vice-President of the Commission on Foreign Affairs Mr. Samuel Cogolati. The MEPs/MP all reaffirmed their support for human rights in Tibet and suggested concrete actions to support Dhondup Wangchen's call.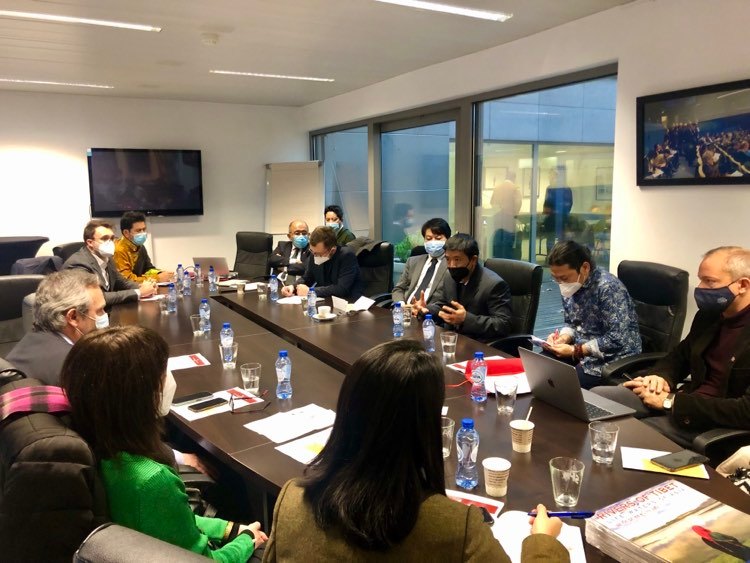 Dhondup Wangchen also had the occasion to exchange with fellow Tibetans living in Belgium as well as Tibet supporters during two screenings of Leaving Fear Behind in Antwerp and in Brussels.
Over the next three months, Dhondup Wangchen will visit more than 10 additional European countries to share his testimony and gather support for his campaign.
Wangpo Tethong, ICT Europe's Executive Director who joined Dhondup Wangchen's visit in Brussels said: "My friend Dhondup Wangchen is an incredible courageous man who has put his life at risk for his country and people. In his European tour he points at the responsibility of the IOC and of National Olympic Committees in Europe to urgently confront and oppose Chinese grave human rights violations in Tibet and in China. He is also in favor of a diplomatic and political boycott of the 2022 Winter Olympics in China, which is also the stand of the International Campaign for Tibet."
Dhondup Wangchen's European tour has been organised jointly by Filming for Tibet, International Tibet Network – as well as by the International Campaign for Tibet for the Netherlands, Belgium and Germany.
For full details of tour schedule and Dhondup Wangchen's new short film, visit the website https://www.myolympicoath.org/
In advance of the Winter Olympics in Beijing, ICT has issued a briefing paper documenting how the Chinese government has escalated its repression in Tibet since it hosted the Games in 2008, as well as a number of recommendations for governments. The briefing is available here.
Contacts:
Vincent Metten
International Campaign for Tibet Brussels
vincent.metten@savetibet.eu
+32 473 990 440
(French, English, German, Dutch)