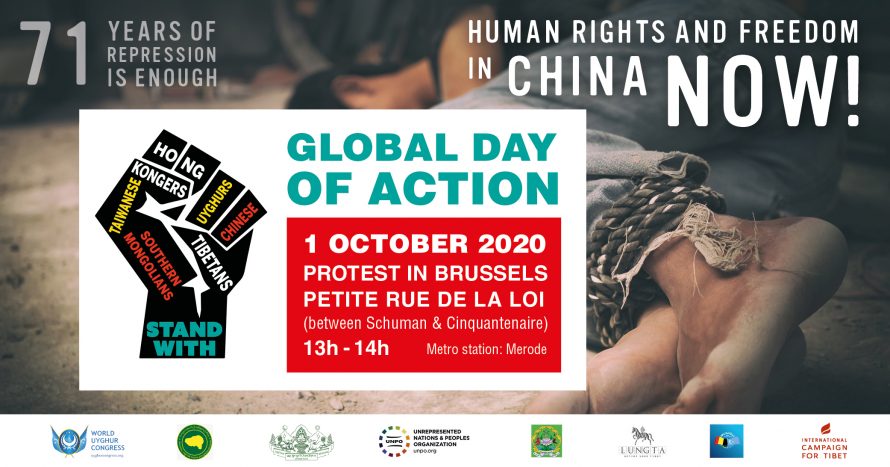 Enough is Enough, Human Rights and Freedom in China Now!
Joint Protest for Human Rights in China on 1 October in Brussels
Brussels, 28 September 2020 – On 1st October, the 71st anniversary of the establishment of the People's Republic of China, the World Uyghur Congress, the International Campaign for Tibet, the Unrepresented Nations and Peoples Organisation, the Belgian Uyghur Association, Lungta – Actief voor Tibet and the Tibetan Community in Belgium are organizing a demonstration in Brussels in order to call on the EU to take urgent and concrete action to hold China accountable for its serious human rights violations. The joint protest will take place from 13:00-14:00 on Petite Rue de la Loi near Schuman roundabout.
The protest is one of hundreds of protests and collective actions happening on 1st October around the world as part of a "Global Day of Action," a joint initiative of organisations representing Uyghurs, Tibetans, Southern Mongolians, Hong Kongers and Taiwanese joining hands to honour the victims of the Chinese Communist Party (CCP)'s repression and demand that the fundamental rights and freedoms of all people in China be respected.
The situation for different ethnicities and peoples outside of the Han majority in China has indeed deteriorated dramatically in recent years, and many are now facing unbearable repression and forced assimilation. The situation continues to get worse as even the most basic rights – such as being able to speak one's mother tongue or to practice its religion peacefully – are denied. If action is not taken, these various ethnic groups, whose diverse and unique cultures and traditions represent a richness for China, could soon disappear forever.
The Chinese government has committed to the indivisibility and universality of human rights and promised to meet its human rights obligations on several occasions, but has failed to live up to these promises. Instead, it has only expanded and intensified its repressive policies against ethnic groups and critical voices.
And increasingly assertive rhetoric from the EU has not been met with any improvement on the situation on the ground. We cannot keep taking the same actions and expect a different outcome: the EU must show its commitment to human rights by upgrading its response from expression of concerns to a more robust, result-oriented and ambitious EU policies on China, East Turkistan and Tibet.
"In the last three years, millions of Uyghurs have been detained in concentration camps, Uyghur women have been sterilized and subjected to birth prevention measures to diminish the Uyghur population, Uyghur language has been banned is some schools, there is severe religious persecution and Uyghur culture and identity has been eroded and undermined," said World Uyghur Congress' President Dolkun Isa. "This is genocide. What the CCP is doing to Uyghurs, Tibetans, Hong Kongers, Southern Mongolians, ethnic Kazakhs and others is not acceptable and is an affront to common humanity and human dignity. Now is the time for the EU to make tough decisions and make a clear and principled stance that it will not continue business as usual with a Chinese government actively committing genocide and other atrocities. We need urgent action before it is too late."
"As Beijing has prevented genuine access to Tibet, the human rights crisis there has become a muted one, but Tibetans inside Tibet continue to suffer daily from Chinese assimilationist and repressive policies. Recent reports about Xinjiang's large-scale forced labor program now being replicated in the Tibet Autonomous Region and having already pushed over half a million Tibetans into military-style training centers are just another proof of the continuing escalation of the repression against the Tibetan people. A robust and coordinated response from the EU – including targeted sanctions against Chinese officials responsible for human rights violations – is therefore desperately needed, " said Vincent Metten, EU Policy Director of the International Campaign for Tibet.
"What we are witnessing today is the culmination of years of wilful appeasement by the international community of the CCP", said Ralph Bunche, General Secretary of the UNPO. "Over just the past year we have witnessed the fruits of this appeasement: ever harsher measures aimed at eradicating and assimilating the Uyghur, Tibetan and Southern Mongolian people, including via a network of concentration camps; the effective annexation of Hong Kong and persecution of its citizens in violation of an international agreement guaranteeing its autonomy; territorial expansionism across Asia, from the South China Sea to the Himalayan Sino-Indian border, including ever-harsher measures in occupied-Tibet and increased threats on the bastion of democracy and rights that is Taiwan; and repeated efforts to blunt the United Nations as a force for human rights in the world. The world is heading blindly towards catastrophe, repeating the mistakes of the past in allowing a totalitarian system to operate with such liberty at home and abroad. We must set aside our narrow economic and trade interests and begin to treat the CCP as the threat to international peace and stability that it so surely is."
The organizers of this protest are therefore calling on EU leaders and EU Member States to:
Urgently pass a targeted sanctions regime and use this to hold Chinese officials responsible for serious human rights violations accountable.
Fully support and take decisive action towards the implementation of the recommendation of more than 50 UN experts on China last June to create an independent mechanism to address the Chinese government's human rights violations.
Institute a comprehensive review and impact assessment of EU-China relations, including the EU-China Comprehensive Investment Agreement negotiations and bilateral arrangements between the EU member states and China, to determine whether these agreements are capable of safeguarding human rights in China and guaranteeing international peace and security internationally.
Establish an efficient regulatory framework ensuring that European companies respect human rights in their activities in China and in particular in East Turkistan and Tibet, both directly and through their business relationships.
Demand unfettered access to East Turkistan and Tibet for EU diplomats and journalists, in order to assess the full extent of human rights violations there, and substantively raise China's serious human rights violations consistently and publicly, including in all its exchange with the Chinese government.
Press contacts:
Vincent Metten, EU Policy Director, International Campaign for Tibet
vincent.metten@savetibet.eu
+ 32 (0)2 609 44 10
Ryan Barry, Project Coordinator & Researcher, World Uyghur Congress
ryan.barry@uyghurcongress.org
+32 (0)4 84 17 43 84
Lucia Parrucci, Advocacy & Training Coordinator, UNPO
l.parrucci@unpo.org
+32 (0)4 83 71 66 41
Han Vandenabeele, President, LUNGTA – Actief voor Tibet
hanvdab@hotmail.com
+32 (0)4 85 03 75 26
Ekber Tursun, Belgium Uyghur Association
ekber.t@protonmail.com
Phurbu Dhondup, President, Tibetan Community in Belgium
phurbuten06@gmail.com