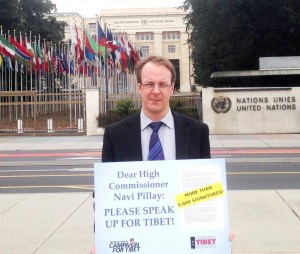 In Geneva today (February 27), Kai Müller, Executive Director, International Campaign for Tibet (ICT) Germany met with the High Commissioner's Office and handed over letters from Tibet supporters worldwide calling on UN High Commissioner Navi Pillay to raise Tibet in her opening statement at the UN Human Rights Council.
Over 5000 Tibet supporters signed emails to Ms. Pillay from all over the world, including Taiwan and Burma (Myanmar).
The UN Human Rights Council begins on Monday March 3. On March 19 the Council will adopt the UN Working Group Report on China's Universal Periodic review where China would indicate which recommendations it would accept to improve the rights conditions in China.
This action was the first collaboration between ICT and the Australian Tibet Council.