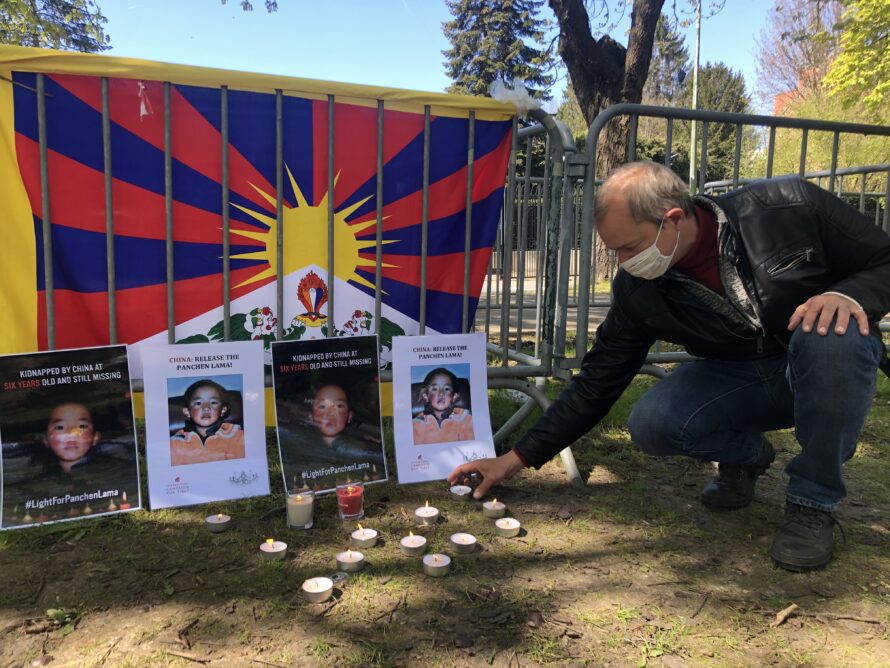 On Sunday 25 April, thousands of Tibetans and Tibet supporters worldwide lit candles for the 32nd birthday of the missing Panchen Lama, who was kidnapped by China in 1995 when he was only six years old.
Gedhun Choekyi Nyima, the 11th Panchen Lama, is the highest Tibetan spiritual leader after the Dalai Lama, and is the world's youngest political prisoner ever. Despite numerous requests from the UN, the EU, national governments and numerous NGOs for access, the Chinese government is refusing to provide any information about his whereabouts or welfare. In total, his forced disappearance has now lasted almost 26 years.
The situation of the Panchen Lama remains of great concern for the international community. That's why on his birthday yesterday, Tibetans and supporters lit candles for the Panchen Lama, sharing a photo on their social media with the hashtag: #LightForPanchenLama, to show solidarity. This simple act also helped shed light on his enforced disappearance.
The first 32 candles were lit on Sunday in front of the Chinese Embassy in The Hague during a protest in front of the Chinese Embassy in the Netherlands. A similar protest also took place in front of the Chinese Embassy in Brussels on 23 April. Participants to both protests called on the Chinese government to:
Release the Panchen Lama immediately and unconditionally so that he can lead a free and normal life;
Accept requests from the UN and governments to allow UN observers to investigate the welfare of the Panchen Lama;
Respect the basic human rights of the Tibetan people.
In addition, both in The Hague and Brussels, a truck with a screen showing pictures of the Panchen Lama drove around the city to raise awareness about his disappearance among the Dutch and Belgian people.