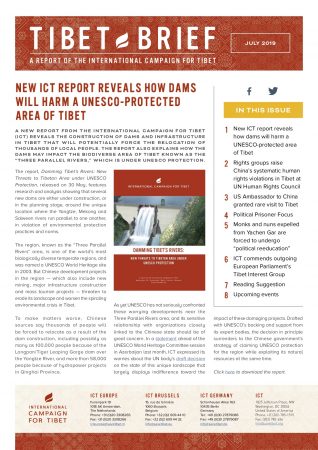 The Tibet Brief is an ICT publication for policy-makers, providing concise information and perspectives on the political, economic and human rights situation in Tibet.
In this edition:
New ICT report reveals how dams will harm a UNESCO-protected area of Tibet
Rights groups raise China's systematic human rights violations in Tibet at UN Human Rights Council
US Ambassador to China granted rare visit to Tibet
Political Prisoner Focus
Monks and nuns expelled from Yachen Gar are forced to undergo "political reeducation"
ICT commends outgoing European Parliament's Tibet Interest Group
Reading Suggestion
Upcoming events
Click here to read the Tibet Brief.
The French version is available here.