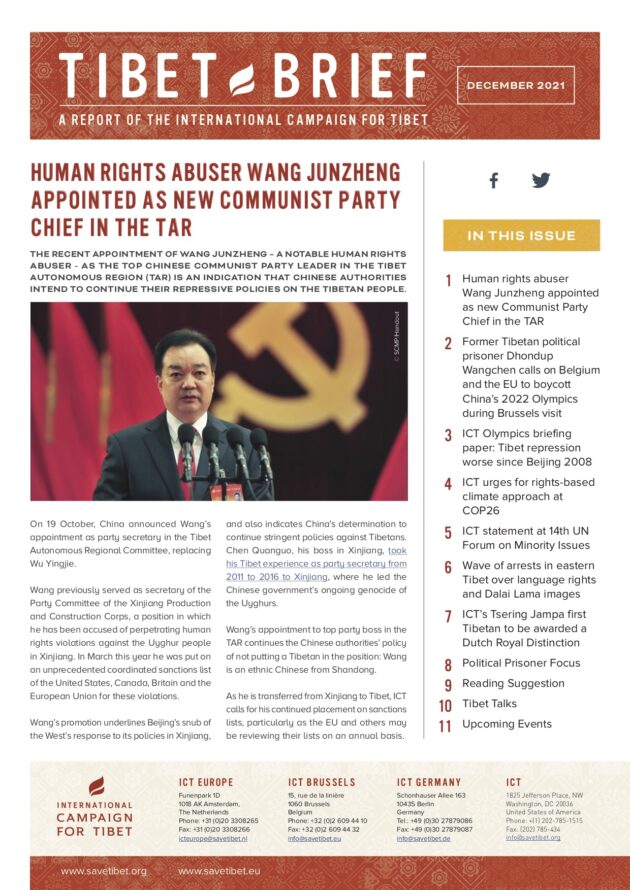 The Tibet Brief is an ICT publication for policy-makers, providing concise information and perspectives on the political, economic and human rights situation in Tibet.
In this edition:
Human rights abuser Wang Junzheng appointed as new Communist Party Chief in the TAR
Former Tibetan political prisoner Dhondup Wangchen calls on Belgium and the EU to boycott China's 2022 Olympics during Brussels visit
ICT Olympics briefing paper: Tibet repression worse since Beijing 2008
ICT urges for rights-based climate approach at COP26
ICT statement at 14th UN Forum on Minority Issues
Wave of arrests in eastern Tibet over language rights and Dalai Lama images
ICT's Tsering Jampa first Tibetan to be awarded a Dutch Royal Distinction
Political Prisoner Focus
Reading Suggestion
Tibet Talks
Upcoming Events
Click here to read the Tibet Brief.
The French version is available here.