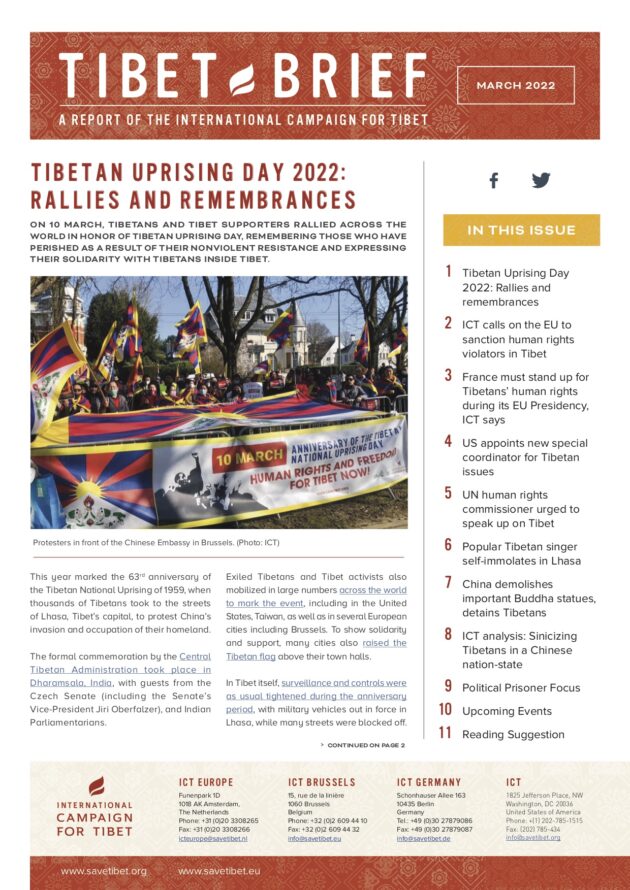 The Tibet Brief is an ICT publication for policy-makers, providing concise information and perspectives on the political, economic and human rights situation in Tibet.
In this edition:
Tibetan Uprising Day 2022: Rallies and remembrances
ICT calls on the EU to sanction human rights violators in Tibet
France must stand up for Tibetans' human rights during its EU Presidency, ICT says
US appoints new special coordinator for Tibetan issues
UN human rights commissioner urged to speak up on Tibet
Popular Tibetan singer self-immolates in Lhasa
China demolishes important Buddha statues, detains Tibetans
ICT analysis: Sinicizing Tibetans in a Chinese nation-state
Political Prisoner Focus
Reading Suggestion
Upcoming Events
Click here to read the Tibet Brief.
The French version is available here.