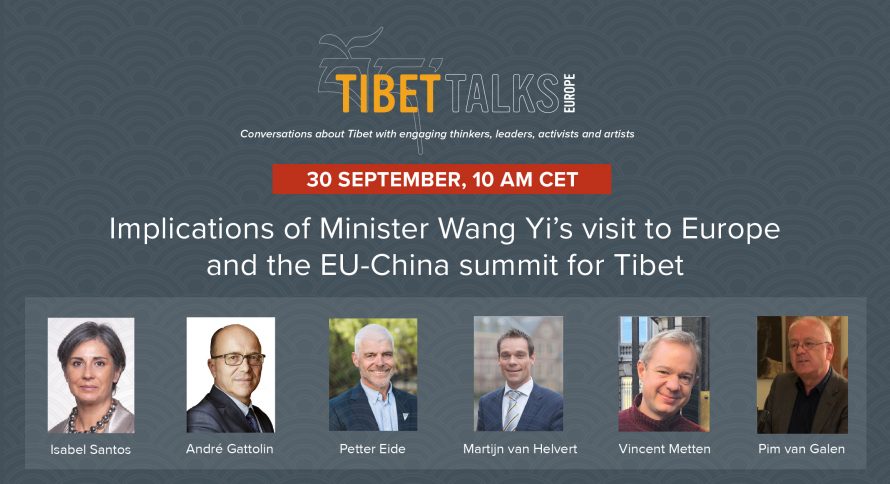 Tibet Talks Europe #7: Implications of Minister Wang Yi's visit to Europe and of EU-China leaders' meeting for Tibet
Chinese Foreign Affairs Minister Wang Yi embarked on a European diplomatic tour during the last week of August, making stops in Italy, the Netherlands, Norway, France and Germany.
Following his tour, on 14 September, an EU-China leaders' meeting took place via video conference, chaired by President Michel on the EU side and President Xi on the Chinese side.
How do parliamentarians from the countries Minister Wang Yi visited assess the visit? What does it and the EU-China leaders' meeting mean for EU-China relations and for effective diplomacy on Tibet?
This episode of Tibet Talks Europe will explore these questions with members of Parliament from France, Norway, the European Parliament and the Netherlands.
Date: Wednesday, September 30, 2020
Time: 10:00-11:00 (Central European Timezone)
Guest Speakers:
Isabel Santos, Member of the European Parliament
André Gattolin, Member of the French Senate
Martijn van Helvert, Member of the Dutch House of Representatives
Petter Eide, Member of the Norwegian Parliament
Vincent Metten, ICT's EU Policy Director
Watch the recording of this edition below: