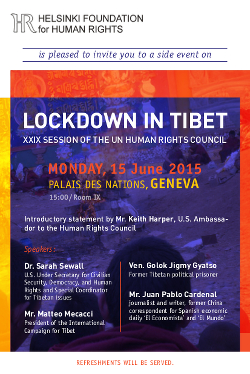 On behalf of the Helsinki Foundation for Human Rights, the International Campaign for Tibet (ICT) is organising a side event during the upcoming 29th session of the UN Human Rights Council session.
The event – "Lockdown in Tibet" – will be held in the Palais des Nations, Room IX, on 15 June from 15:00 – 17:00.
The aim of this side event is to focus attention on several fundamental human rights issues facing Tibet today: namely, restrictions on freedom of expression and movement, which in turn have a significant impact on the ability of Tibetans to exercise other fundamental human rights. The lack of access to Tibet for UN mandate-holders, foreign diplomats and journalists, among others, also severely impacts the protection and promotion of human rights in Tibet as well as the free flow of information out of Tibet.
The speakers will include the U.S. Ambassador to the Human Rights Council, Mr. Keith Harper; the Undersecretary of State and Special Coordinator for Tibetan Issues, Dr. Sarah Sewall; the President of the International Campaign for Tibet, Mr. Matteo Mecacci; Ven. Golog Jigmy, a former Tibetan political prisoner recently arrived in Europe; and Mr. Juan Pablo Cardenal, journalist and writer as well as former China correspondent for Spanish newspapers.