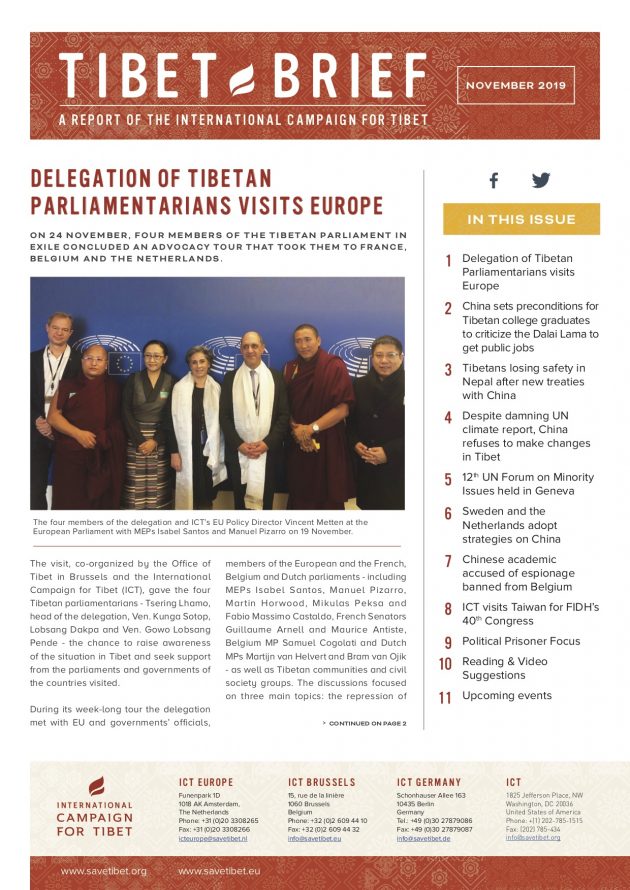 The Tibet Brief is an ICT publication for policy-makers, providing concise information and perspectives on the political, economic and human rights situation in Tibet.

In this edition:
Delegation of Tibetan parliamentarians visits Europe
China sets preconditions for Tibetan college graduates to criticize the Dalai Lama to get public jobs
Despite damning UN climate report, China refuses to make changes in Tibet
Tibetans losing safety in Nepal after new treaties with China
12th UN Forum on Minority Issues held in Geneva
Sweden and the Netherlands adopt strategies on China
Chinese academic accused of espionage banned from Belgium
ICT visits Taiwan for FIDH's 40th Congress
Political Prisoner Focus
Reading & Video Suggestions
Upcoming events
Click here to read the Tibet Brief.
The French version is available here.